Grandpa Jim - Curmudgeon, in a nice way.
"Testing Some New Gear"
Replay of Live Show
"Testing Some New Gear"
Start time:
End time:
Duration: 62 minutes
Please tip the artist during this Replay. Your appreciation will be seen by the performer.
- Hide someone from your chat. Hold down CTRL key (COMMAND for Mac) and click Tip button for quick 1 token tip.
Grandpa Jim
|
Curmudgeon, in a nice way.
---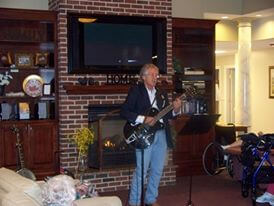 Zanesville, Ohio

United States of America
More About Grandpa Jim
---
Hi, I'm Jim Schaper.

I've relocated back to Ohio after a few months in my home state of Iowa. My dear sweet honey was with me in Iowa for a while and loved it but had some difficulty acclimating. She saw an Oliver tractor and called it a John Deere (they're both green). She also thought a grain bin and silo were the same thing. OMG the learning curve was steep. She discovered tenderloin sandwiches and Maid Rites and loved them.

Now though back to our house up on a ridge in eastern Ohio where I sit on the porch and pick banjo.
Fun Stuff about the Artist
---
Life on the Street
I once got a ticket for "Playing Banjo Without A Permit" by the music police at an outdoor festival.
Embarrassing Moment
Don't tell banjo jokes with a guitar on your lap. Lesson learned.
My Instrument
My first was a Gibson L48 I got in 1966. I still have it. There have been many since then but now I use three instruments, a Gretsch, a Taylor, and an Iida banjo.



I was in a music store one day buying strings and noticed a black Gretsch hanging on the wall. I checked it over and noodled with it. A couple days later went back to visit the guitar. On my third trip (just to see it again) I caved in and brought it home with me. It asked me to take it home. What else could I do?
Rocker Pins
---
Standing Ovation Pin
25 Awards
"Bravo, Bravo!"
Last Awarded:
Love Song Pin
2 Awards
"You made my heart sing."
Last Awarded:
DJ Pin
1 Award
"Thanks for playing my song."
Last Awarded:
Rock God Pin
1 Award
"I bow to your Godliness."
Last Awarded:
Wedding Singer Pin
1 Award
"You made this party not suck."
Last Awarded:
Charity Pin
1 Award
"I love and support your charity."
Last Awarded:
Jelly Jingle Pin
3 Awards
Merry Christmas!
Last Awarded:
Jellypalooza 2017 Pin
4 Awards
PEACE ☮ LOVE

♥

STREAMING
Last Awarded:
Fan Appreciation Pin
1 Award
"Your fans adore you."
Last Awarded: