Grandpa Jim
|
A Friendly Curmudgeon
---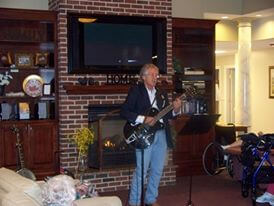 Zanesville, Ohio

United States of America
More About Grandpa Jim
---
Hi, I'm Jim Schaper.

Fall has arrived and the cold weather is upon us. No more pickin banjo on the porch till next spring. Now I sit next to a wood burner and pick and sing and tip a glass and annoy Jane with banjo jokes she's heard a million times. It really is fun to be a curmudgeon. I recommend it highly. I pick banjo for real so I'm allowed to tell the jokes. If you want to see a banjo picker's eyes sparkle just shine a flashlight in his ear. They found a banjo picker's skeleton in a closet. Turns out he was last years hide and seek champion.

Mostly though I play guitar and sing songs that I like.
Fun Stuff about the Artist
---
Life on the Street
I once got a ticket for "Playing Banjo Without A Permit" by the music police at an outdoor festival.
Embarrassing Moment
Don't tell banjo jokes with a guitar on your lap. Lesson learned.
My Instrument
My first was a Gibson L48 I got in 1966. I still have it. There have been many since then but now I use three instruments, a Gretsch, a Taylor, and an Iida banjo.



I was in a music store one day buying strings and noticed a black Gretsch hanging on the wall. I checked it over and noodled with it. A couple days later went back to visit the guitar. On my third trip (just to see it again) I caved in and brought it home with me. It asked me to take it home. What else could I do?
Rocker Pins
---
Standing Ovation Pin
25 Awards
"Bravo, Bravo!"
Last Awarded:
Love Song Pin
2 Awards
"You made my heart sing."
Last Awarded:
DJ Pin
1 Award
"Thanks for playing my song."
Last Awarded:
Rock God Pin
1 Award
"I bow to your Godliness."
Last Awarded:
Wedding Singer Pin
1 Award
"You made this party not suck."
Last Awarded:
Charity Pin
1 Award
"I love and support your charity."
Last Awarded:
Jelly Jingle Pin
3 Awards
Merry Christmas!
Last Awarded:
Jellypalooza 2017 Pin
4 Awards
PEACE ☮ LOVE

♥

STREAMING
Last Awarded:
Fan Appreciation Pin
1 Award
"Your fans adore you."
Last Awarded: